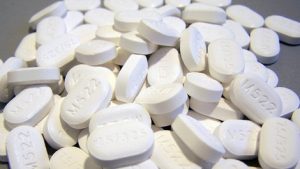 An extremely toxic synthetic research chemical has been found in a counterfeit Oxycodone tablet seized last April by Kindersley RCMP.
It's called W-18 and police say it is a dangerous chemical, sometimes used as a cutting agent for opioids such as fentanyl.
It can be lethal even in extremely small doses.
The RCMP warns the public of the dangers of consuming illicit and unknown drugs, because you never really know what is in them.
The samples that were tested were seized along with a number of other illicit drugs during a traffic stop south of Kindersley last April.
Two people were charged.
Trehia May Stevenson of Medicine Hat has pleaded guilty to possession for the purpose of trafficking and Thomas LaClare of Kindersley is charged with two counts of possession for the purpose of trafficking and two counts of possession.
Health care authorities in the Kindersley area have been notified of the test results revealing W-18.
(CJWW)