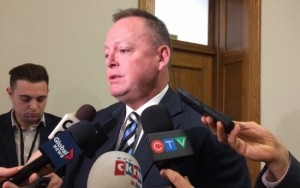 With a billion-dollar deficit facing the Government of Saskatchewan, the province says letters have been sent out to government employee groups to cap salaries and benefits next year.
All 41 groups are included in the proposed cap, that also means third party groups such as school divisions received the notice.
Finance Minister Kevin Doherty said the main reason is to help deal with the financial situation the province is currently in, thanks to the economic down-turn, by keeping the level of compensation the same in 2017-2018 as it was in 2016-2017.
"We are asking that the level of compensation across government, which represents about 7.1 billion dollars in total between compensation and benefits, cannot rise next year as we deal with this financial situation," Doherty said.
Doherty said it's up to those groups whether or not they want to cut salary increases, or implement wage freezes and layoffs.
"The options would include the unions saying, we are not going to take our increments this year, perhaps we're going to have some unpaid leave to offer employees, or there could be layoffs," Doherty said.
The NDP is calling this an unacceptable action and not the way to deal with the deficit.
"Lead by example, it's been wrong and questionable from day one that our Premier has been receiving a massive top out year-after-year from outside Saskatchewan.
Secondly don't pile on things like three more unneeded MLA's," said NDP Leader Trent Wotherspoon.
"This isn't even talking about a wage freeze, this is talking about taking dollars away," Wotherspoon added.
The province also says they may slow construction of infrastructure projects to save money.
"We have been taking a look at our current infrastructure projects, the ones that are currently on-going we've been asking questions about slow-walking some of them," Doherty said.
Doherty said at the same time, there is to many projects right now that are to significant to slow-walk.
The Regina Bypass project apparently will not be delayed, however no projects that could be affected were named.