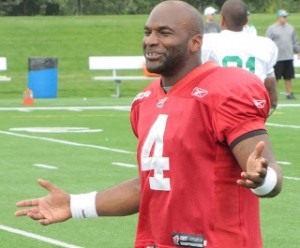 The Montreal Alouettes have announced they have signed quarterback Darian Durant to a three year contract.
Durant's rights were acquired by the Alouettes after a trade from Saskatchewan ending a decade long run he had with the green and white which was highlighted by the 2013 Grey Cup  victory.
"We are extremely happy to have reached an agreement with Darian and we are looking forward to see him lead our offence out on the field," said Alouettes General Manager Kavis Reed in a press release. "The negotiations came to this rapid conclusion because both parties were anxious to get a deal done and start working together to bring a championship to the city of Montreal."
Sportscage Insider Arash Madani is reporting the deal sees Durant get 1.25 million over the course of the deal including 400,000 dollars this year with 225 thousand of that coming in a signing bonus
Durant leaves Saskatchewan after 155 career-games, including 111 as the starting quarterback for the Riders.
The 34-year-old completed 2,186 of his 3,519 passes, amassing 28,136 yards, while throwing 149 touchdown passes.
He currently stands 16th all-time in the CFL for career passing yards. He also carried the ball on 369 occasions throughout his career, cumulating 2,888 yards and scoring 21 rushing majors along the way. He has a 5-1 record as a starting quarterback in playoff games