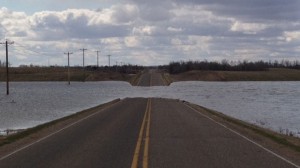 Manitoba's Premier is accusing the Saskatchewan government of not doing enough to fight flooding along inter-provincial waterways.
Brian Pallister says the two provinces need to work together because they are in the same drainage basins, but Saskatchewan hasn't partnered as he would like.
Manitoba farm groups have long accused Saskatchewan of not following proper land-drainage rules, causing spring meltwater to rush downstream along the Assiniboine River and smaller rivers into Manitoba.
The issue last came to a head in 2014, when Manitoba called in the army and declared a state of emergency as water rushed in from Saskatchewan. Some crops were washed out and about 3,800 square kilometres of farmland went unseeded.
Pallister said he has talked with Saskatchewan Premier Brad Wall about co-operating on flooding, but Saskatchewan is "not yet at the table in a full way".