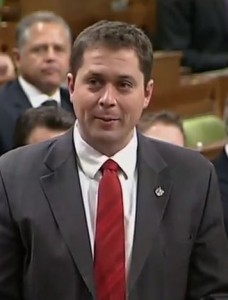 Kevin O'Leary has decided to join the Conservative leadership race, and as he does so, he is predicting a victory and a victory over Justin Trudeau in the 2019 federal election.
That decision to join is one Regina MP and leadership candidate Andrew Scheer doesn't mind saying he looks forward to discussing his ideas and thoughts on various issues in the final months leading up to the vote as to who will replace Stephen Harper as party leader.
Scheer says he is a Conservative who welcomes competition, but he adds he wishes he would have joined the race before a French-language debate earlier this week saying its not a hallmark of leadership to duck such a debate because he can't speak French.
Scheer says one thing that does concern him about O'Leary is whether or not he is ready to give it his all and focus on the task at hand.
O'Leary has stated he would continue with his life as a businessman while campaigning, but Scheer says what is needed is someone who will take this job and give it everything he or she can as he feels there is a great chance of the Conservatives re-establishing themselves as the party of power after the 2019 federal election.
Conservatives elect a new leader in May with 14 people in the race.