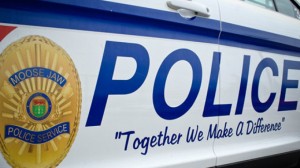 One man is facing a number of charges after evading Moose Jaw police, while impaired, early Sunday morning.
Around 1:25 a.m., police tried stopping a truck driving erratically in the zero block of Fairford Street West when the driver fled from officers.
Police say the driver sped away, running a red light at Main Street North, continuing east on Fairford Street East.
Officers did not pursue a chase, but called in back-up to the area to search for the vehicle.
A short time later, the truck was found in a vacant lot off of Caribou Street East, outside Moose Jaw.
There, the male driver was arrested without incident.
The man has been charged with flight from police, dangerous operation of a motor vehicle and possession of a controlled substance. A 72-hour license suspension due to alcohol consumption was also issued, and his vehicle impounded for 30 days.
The driver will appear in court at a later date.