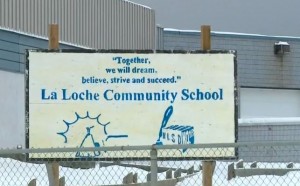 Saskatchewan Premier Brad Wall and Prime Minister Justin Trudeau took to social media Sunday morning to commemorate the somber one year anniversary of the La Loche, Sask. shooting.
"In shock and in sadness, all of Saskatchewan wept with La Loche in mourning." Premier Wall remembered in a Facebook post. "We witnessed an unimaginable event in a place where young people go to learn and be nurtured by teachers and teacher-aides who have a passion for them."
One year ago, a 17-year-old boy walked into the La Loche Community School with a gun, where he killed teaching assistant Marie Janvier, teacher Adam Wood and wounded seven others.
Later that day, in a nearby home, it was discovered that Dayne and Draydon Fontaine were also killed.
"On behalf of the Government of Canada, Sophie and I join all Canadians in solemn commemoration of this anniversary," Prime Minister Trudeau said in a Facebook post.
After offering their condolences to the northern Saskatchewan community, both leaders touched on the importance of strengthening the mental health supports in the area.
"We've been working with them to strengthen mental health supports, counselling services, and programs in La Loche, and we are measuring the effectiveness of those supports on an ongoing basis," said Premier Wall.
While kilometres away, Prime Minister Trudeau said he will continue to work with the town.
"Our government is working every day to help realize that future, and we will continue to partner with the community, Indigenous Peoples, and all orders of government to address the issues facing La Loche," said Prime Minister Trudeau.
A year later, the community continues to grieve.
The shooter — a student at the school, who was 17 years old at the time and cannot be named under the Youth Criminal Justice Act — has pleaded guilty to charges of first-degree murder, second-degree murder and attempted murder.
He is to be sentenced in the spring.