The Toronto Argonauts have fired general manager Jim Barker.
The move comes after Toronto finished last in the East Division with a league-worst 5-13 record.
Barker spent six seasons as GM, winning a Grey Cup in 2012.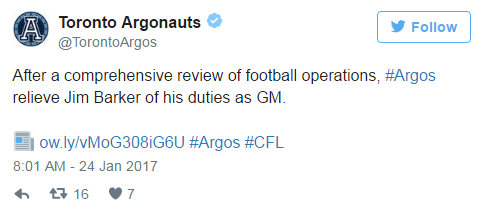 The 60-year-old California native was in his second stint with the Argos.
He assumed his first CFL head-coaching position with Toronto in 1999 before returning to the U.S. in 2001 to be an offensive co-ordinator with the XFL-champion Los Angeles Xtreme.