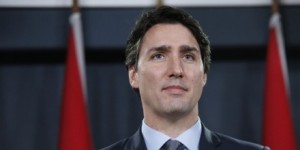 Mental health, Indigenous education and health, pipelines, trade, and the carbon tax.
Those were the issues Prime Minister Justin Trudeau touched on at his town hall meeting with Saskatoon residents Wednesday night.
Over 800 people showed up to the event at the Dube Theatre on the U of S campus, 550 of which got to sit in the main theatre, the rest were in an overflow room watching on a screen.
NORTHERN SUICIDES
Within the last year, six youth have committed suicide in Saskatchewan's north, and Trudeau says he has heard many more youths have tried to take their lives.
The was brought up by Saskatoon Tribal Chief Felix Thomas. Thomas says he was frustrated the announcement of federal funding for Indigenous education and health haven't come through yet.
Trudeau says he is impatient with this as well but added these things need to be done right.
PRESIDENT DONALD TRUMP
In the meantime, President Donald Trump's actions since he has been in power sparked a lot of discussion.
Trudeau plans to fight for Canadian jobs during construction of the Keystone XL pipeline.
Trump has signed his approval to negotiate Keystone XL, saying he will demand a better deal for the pipeline and the use of US steel in the pipes to be laid. He notes it will create 2,200 jobs for some in Saskatchewan and Alberta.
As a result of the United States backing out of the Trans-Pacific Partnership, Trudeau remains committed to ensure Saskatchewan's trade interests in the US and NAFTA are protected.
Trudeau says it is early yet to be talking about what the Trump administration plans to do with NAFTA, but he will ensure they know what it means to both countries.
CARBON TAX
Also, Trudeau tried to soften the news of a carbon tax coming to Saskatchewan by reminding those in attendance, that there is the possibility of a lot of positives because of it.
Trudeau told the crowd all the money gained from a carbon tax will stay in Saskatchewan and open up opportunities for those in the industry to innovate and come up with better processes and systems.
When asked how the federal government would enforce a carbon tax if Premier Brad Wall refused, Trudeau simply pointed to the fact he and the Premier will disagree on somethings and this is one of them.
Trudeau's Town Hall tour travels to Regina Thursday, beginning with a breakfast at the RCMP Academy with the Cadets and then the Prime Minister will stop by the University of Regina to visit with students around 9:40 a.m.
Once that is over, Trudeau will head to Winnipeg as he has another town-hall meeting scheduled in the Manitoba capital.
(with files from CJWW)