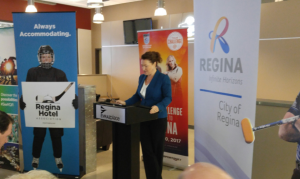 Regina curling fans are going to be treated to some top-notch curling from the best rinks in the world this September.
The Grand Slam of Curling announced the first of its seven stops, the Tour Challenge, will be played at the Co-Operators Centre September 5-10.
The Tour Challenge is the largest of the seven events on the Pinty's GSOC schedule with a total of 60 men's and women's teams split into two tiers of action.
Tier 1 features the top teams from around the world battling for curling supremacy. Edmonton's Val Sweeting and Niklas Edin of Sweden are the reigning champions while Calgary's Kevin Koe and Silvana Tirinzoni of Switzerland captured the inaugural titles in 2015.
Tier 2 spotlights the next group of teams aiming to springboard up the ranks alongside a handful of local squads looking to make their mark. Past Tier 2 champions include Winnipeg's Kerri Einarson, Jim Cotter of Vernon, B.C., Greg Balsdon of Kingston, Ont., and Jacqueline Harrison of Mississauga, Ont.
Although this will mark the first time Regina hosts a Pinty's Grand Slam of Curling event, it'll be the fourth consecutive season the series swings through Saskatchewan. Yorkton held the Canadian Open in 2014 and 2015 and the tournament shifted to North Battleford this season.