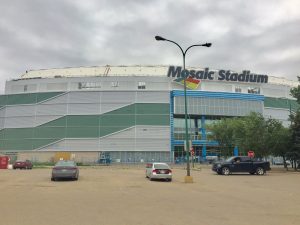 This month the city of Regina held three engagement sessions for residents living in the areas adjacent to the new Mosaic Stadium.
The plan was to gather ideas, concerns and information from those residents, before putting forward the new transportation and parking plan for the new stadium.
Kim Onrait Executive Director of City Services said before a final plan is presented to city council, they will be studying both vehicle and pedestrian traffic, and taking everyone's concerns into consideration.
"We're looking at vehicular traffic, we're looking at pedestrian traffic, we're looking at parking, and also transit use," Onrait said in a phone interview with 620 CKRM.
Onrait mentioned at the first test event, held at the new stadium in October, a football game between the U of R Rams and U of S Huskies, 21 per-cent of people in attendance used public transit, something the city is encouraging residents do when attending football games and concerts at the new stadium in the future.
While many proposals are on the table on how to handle traffic and parking during large events, one that has area residents concerned is the idea of revoking their parking permits.
Currently only residents living near the stadium who have a permit can park on the nearby residential streets during large events.
Onrait said that is only one proposal on the table and added nothing is set in stone yet.
He explained this is one of the main reasons the public engagements were held.
"Nobody has landed on a final decision, that is the whole point of doing these test events, gathering information, and having these conversations with the communities," Onrait said.
The city is also hoping to have another test event, much like the football game last October.
"Parking and transportation issues are always complicated, so we appreciate the help of our consultants in gathering community feedback for their recommendations. We will evaluate all options before finalizing a plan," Onrait said in a news release.
The engagement sessions were held for people who live in the city's North Central, McNab, and Cathedral neighborhoods, which are all areas that have streets surrounding the stadiums and Evraz Place.