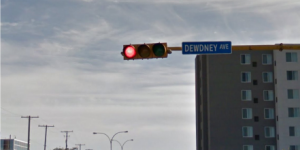 A Regina woman wants the City of Regina to change the name of a busy street as part of the city's commitment to the Truth and Reconciliation process.
Joely Big Eagle-Kequahtooway recently submitted a proposal asking the city to change Dewdney Avenue to Buffalo Avenue.
Big Eagle-Kequahtooway says the word Buffalo is entrenched in Regina's First Nation history and should be utilized more often.
She said it's important to remember Regina's colonial history.
Big Eagle-Kequahtooway said Dewdney Avenue is named for Edgar Dewdney, a late 19th-century Indian commissioner and lieutenant governor who selected Regina as the capital of the Northwest Territories in 1882, before Saskatchewan was created as a province.
Dewdney was also instrumental in setting up Canada's reservation system and used the distribution of rations, following the rapid disappearance of buffalo, as a device to force Indigenous people to settle on reservations and send their children to residential schools.
Big Eagle-Kequahtooway submitted her proposal in November and is still waiting to hear back.