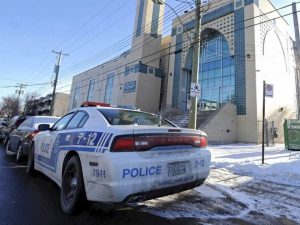 A French-Canadian university student was the sole suspect in a shooting at a Quebec City mosque and was charged with the premeditated murder of six people, Canadian authorities said on Monday, in what Prime Minister Justin Trudeau called "a terrorist attack."
Court documents identified the gunman in the attack on Sunday evening prayers as Alexandre Bissonnette. He was also charged with five counts of attempted murder, according to court papers.
Among the six men killed were a butcher, a university professor, a pharmacist and an accountant, according to police and Canadian media.
Police declined to discuss possible motives for the shooting at the Centre Culturel Islamique de Québec.
"They consider this a lone wolf situation," a Canadian source familiar with the situation said.
In Washington, U.S. government security experts were leaning to the view that the gunman most likely was motivated by hatred for Muslims, a U.S. government source familiar with official reporting said.
A man of Moroccan descent who had also been arrested was now considered a witness, although his nationality was not immediately known, the Canadian source said.
Trudeau, who has made a point of welcoming refugees and immigrants from Muslim-majority countries, told parliament in Ottawa: "Make no mistake, this was a terrorist attack."
He added a personal message to Canada's 1 million Muslims:
"Know that we value you. You enrich our shared country in immeasurable ways. It is your home. Last night's horrible crime against the Muslim community was an act of terror committed against Canada and against all Canadians. We will grieve with you. We will defend you. We will love you. And we will stand with you."
Somber parliamentarians observed a moment of silence. Trudeau was scheduled to visit Quebec City later on Monday.
The attack was out of character for Quebec City, a city of just over 500,000 which reported just two murders in all of 2015.
(Reuters)