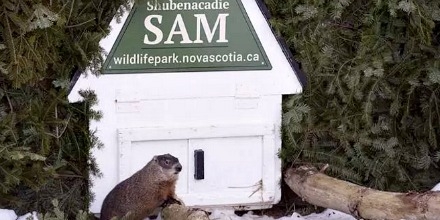 It's Groundhog Day.
The day many of rely on a rodent to predict when winter will end.
Folklore has it if the groundhog sees its shadow when it emerges from its burrow on Groundhog Day, there will be six more weeks of winter.
Nova Scotia's expert weather prognosticator spoke out earlier in the morning and according to the furry, nap-loving groundhog Shubenacadie Sam, an early spring is on the way.
Sam did not see his shadow Wednesday morning, meaning winter should soon be coming to a close — at least for Nova Scotians.
In Wiarton, Ont., the festival leading up to the morning's "official prediction" by the town's albino groundhog – Willie – began on Jan. 27.
And it appears Wiarton Willie is also calling for an early spring after he didn't see his shadow.
But the naysayer is Punxutawney Phil who saw his shadow on Thursday morning, predicting six more weeks of winter during Groundhog Day festivities at Gobbler's Knob, a small hill just outside Phil's hometown.
Records dating to 1887 show Phil predicting more winter 102 times while forecasting an early spring just 18 times — including last year.