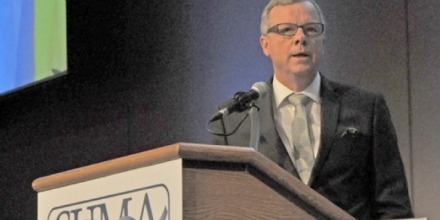 The future of SaskTel could come down to the people of Saskatchewan.
During Wednesday's Bear Pit session at the SUMA convention, one councilor asked where the province stands on the future of the crown corporation.
This, after Bell Media's proposal to take over Manitoba Telecom Services, or MTS.
Premier Brad Wall says he would be willing to have the people of Saskatchewan vote in a binding referendum, if there was a good enough deal.
"If we were able to get an offer, as a result of the offer which was given to MTS for a majority of  the company, and if we believe it was good for the province any number of reasons; keeping jobs in Saskatchewan, the head-office here, better coverage for Saskatchewan.," said Wall. "I can't say yes to that deal – we didn't campaign on that. But I don't think I should say no either."
NDP Leader Trent Wotherspoon said it's "pathetic and weak" Wall was not able to provide certainty on the future of SaskTel.