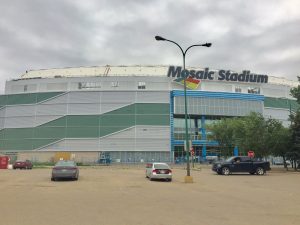 The Regina North Central Community Association is waiting to hear if they will be able to continue working after Saskatchewan Roughriders games in the new Mosaic Stadium.
For the past ten years the associations "Go Green Program" has given work to those who have been  unemployed for extended periods of time.
One of their biggest jobs has been sorting recycling after Rider games.
RELATED:
The association is in danger of losing that job with operations moving to the new stadium this season.
Pauline Gabriel, the Program's Coordinator said losing that job would cost some people more than just a pay cheque.
"At the average football game we put about 45 people to work for about four hours, quite often it's been the difference whether or not they can pay rent for that month or put food on the table, that kind of thing," Gabriel said.
Operations of the new stadium are now run by Evraz rather than the city of Regina.
Gabriel also said at the old stadium alcohol sales were done by the Riders who then gave the salvage rights to the Go Green Program which was how they paid their workers.
She said at the new stadium alcohol sales will be done by each individual vendor, adding they are unsure if any vendor will be able to donate the recycling to them so they can continue to pay their workers.
Gabriel said she is hoping to know by April, if they will have work at the new stadium or not.