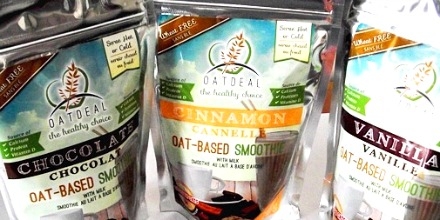 Saskatoon's George Berreras says a recent appearance on a Canadian television show will likely bring plenty of interest in his hot, oat-based smoothie mix called OatDeal.
Berreras says he grew up drinking something similar in South America.
And when he came to Canada a decade ago, he expected to see a a type of this smoothie here, given Saskatchewan is one of the largest producers of oats in the country.
So, Berreras says he created OatDeal, with some ingenuity and Regina-produced oats.
"We get our oats from Avena Foods in Regina," says Berreras. "They sell certified, gluten-free oats. There are very few places in the world where you can get certified, gluten-free oats. Originally oats don't have gluten, but there's cross-contamination. Most of the oats in the world are cross-contaminated with wheat."
Berreras says he received funding to get started with the Saskatchewan Agri Value Initiative Funding grant – or SAVI.
Berreras says he began to market the drink with some insight into Canadian and American consumers.
"There's a huge market in the United States." Berreras says. "But entering a market that size, with so many Hispanics, requires money. So, this program (SAVI) helps us to get there."
Berreras recently touted his project on Dragons' Den, where he says talks regarding this product continue.
He also sells his product online and in some select stores.