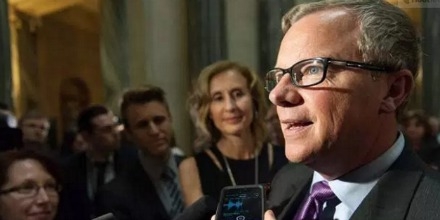 Prime Minister Justin Trudeau and U.S. President Donald Trump had their first official meeting in Washington Monday.
One of Canadians biggest concerns was the North American Free Trade Agreement and Trump's plans to change the agreement with disregard for other nations involved.
And Saskatchewan Premier Brad Wall weighed in on the issue as well, speaking to reporters in Regina Monday while kicking off his Saskatchewan Ingredients Tour.
Wall says he see's Trump gearing more towards North America now, rather than the U.S alone.
Wall says something Trump needs to realize is 35 States have Canada as their top exporting partner and nine-million American jobs depend on free trade with Canada.
In the meantime, Premier Wall made stops at CanMar Grain Products and NutraSun Foods on Monday.
The Saskatchewan Ingredients Tour is highlighting the importance of value added food processing plants in the province.
Wall says the industry provides the province with thousands of jobs.