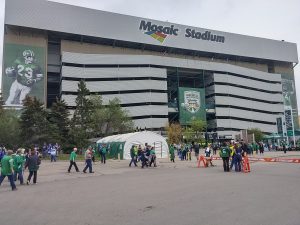 Regina police are investigating after around 50 to 60 feet of copper piping was cut out at the old Mosaic Stadium.
The incident is believed to happened sometime around February 7 and wasn't noticed until an employee found some fresh tracks in the snow leading from the west side to the east side which has been shut down for quite a while.
A further investigation found some locks had been removed with someone entering and stealing the pipe
Some tools which are believed to have been used by the suspect was found at the stadium.
At this time, police continue to search for those responsible and are asking anyone with information to come forward by contacting them or Crimestoppers.