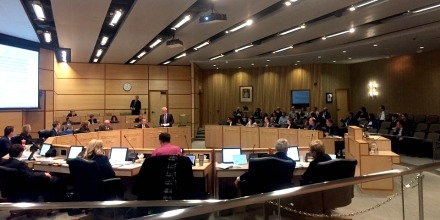 After six hours of delegations and debate, Regina city council passed the 2017 civic budget around 11:30 p.m. Monday night.
Using money from an estimated 2016 operations surplus of $9.8 million, they were able to reduce the mill rate and utility rate proposed increases, from 4.18 per-cent to 3.99 per-cent and 5 per-cent to 4 per-cent.
Council didn't unanaymously agree on this, but were able to find a middle ground. It was first proposed to reduce the mill rate increase to 3.79 per-cent, however council members and Mayor Michael Fougere said that is to much of a decrease at an uncertain time.
One per-cent of the 3.99 per-cent increase to the mill rate has been dedicated solely for the residential road renewal program.
Fougere said he hopes residents will appreciate the fact council heard their concerns about the tax increases, and was able to reduce them as best they could.
"I hope they'll understand that we are listening to what they are saying to us, that they felt the increaes were abit high, and I think the motion to reduce was an important answer to the question," said Fougere. "We're listening and we're trying to do the best we can to keep those costs down," Fougere added.
A review will be done this year on the utility rate to see if it is sustainable.
Decreasing the utility rate increase from five to four per-cent will save residents a little over a dollar each month on their utility bills.
Meanwhile an increase of 3.99 per-cent to the mill-rate means the average Regina home-owner could be paying about $100 more this year on property taxes.
Fougere also cautioned they need to prepare to save money down the road, as the province is expected to make more cuts, including possible reductions to municipal revenue sharing when they announce their budget on March 22.
"Now we have this new issue of changing the formula in mid-year, their budget comes out on March 22, and we may have to respond to that by looking at our budget once again," said Fougere. "If they do decide to cut revenue sharing or change the formula, we have reserves we have a surplus this year, but we'd have to look again at what this will mean for us," Fougere said.
The Wall government is currently dealing with a $1.2 billion deficit.
Another major topic was the issue of homlessness in the Queen city. Presentors at the session stated not enough is being done when it comes to funding housing projects to curb the problem.
Mayor Michael Fougere stated the issue cannot be dealt with by the city alone and it is both the provinces and federal governments responsibility to provicde city's with more funding.
"The province puts no money into the Housing First strategy, we cannot do it ourselves the mill rate would be through the roof," Fougere said. "it does not change my commitment to it. At all. It just means we need to have partners that will come to the table and actually take responsibility," Fougere added.
Fougere said the federal government needs to provide more resources as well, saying it is their responsibility, and the National Housing Strategy is not completed yet.  He said so far they have received $5.5 million over five years.
The city also made some infrastructure decisions on budget night.
$193,000 was put aside for the Wascana Centre Authority for a Candy Cane parking lot expansion.
$42,000 is going to the Wascana Centre, a two per-cent increase in operating funding.
Meanwhile the Regina Police Services' operating budget was also approved at $84 million.
Economic Development Regina also received $100,000 for the Regina Advantage program.