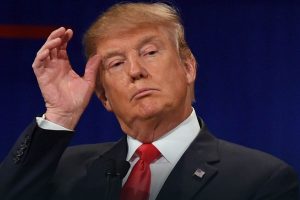 A new Insightrix research shows residents' opinions of Trump are largely negative in Saskatchewan.
When asked what words or phrases first enter one's mind, common responses include racist, bully, sexist, arrogant and egotistic.
Specifically, 66% of Saskatchewan residents report they are either somewhat (30%) or very (36%) concerned about the Trump Administration. Women (41%) are more likely than men (32%) to be "very concerned."
Those "very concerned" also tends to increase with age as 46% of those aged 55 or older are "very concerned", compared to only 27% of those aged 18 to 34.
As for President Trump's policies being positive or negative for Canada, 61% state they believe his policies will be either somewhat (40%) or very (21%) negative.
Women (26%), relative to men (16%) are more likely to state the policies will be "very negative" for Canada. Residents are most worried about increased political tensions in the world with 76% saying they are at least "somewhat worried", followed by the ability of the Canadian Government to stand up for our interests at 74%.
Worries are lowest for increased racism in Canada and travel difficulties to the U.S.
(CJWW)