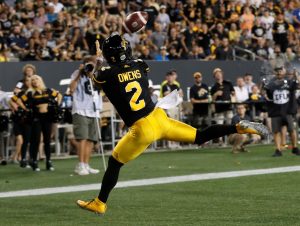 The man known as the "Flyin Hawaiian" is coming to Riderville.
The Saskatchewan Roughriders announced they have signed free agent receiver Chad Owens to a contract.
The 34 year old has caught over 500 passes in the CFL with the Argos and Ti-Cats and was named the league's top special teams player in 2010 and the league's most outstanding player in 2012.
Last year with the Ti-Cats, Owens had 58 catches for over 800 yards and five touchdowns in 12 games.
The team also announced the signing of Canadian safety Marc-Olivier Brouilette.
He has spent his entire CFL career with Montreal since being taken by them in the 2010 draft playing over 100 games with them including all 18 last season.