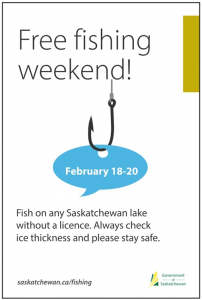 The winter edition of Saskatchewan's free fishing weekend is upon us.
Until Monday, residents and visitors may fish in any of Saskatchewan's public waters with an open sport fishing season, without purchasing a fishing licence.
With the weather warming up, Murray Koob, a sports fish specialist for the Ministry of Environment, urges people to take every precaution to ensure the ice is thick enough.
He adds that a minimum of 10 centimetres of solid ice is required for walking and 30 centimetres for light vehicle travel.
Things to note before heading out to fish this Family Day long weekend:
Regular angling limits and all other sport fishing laws remain in effect
The free fishing weekend does not apply in national parks
Anyone planning to take fish out of the province must buy a licence
Anglers on Lac la Ronge must have a free endorsement, available at local merchants