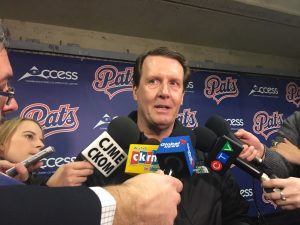 Regina's mayor is grinning from ear-to-ear over the fact that the city is going to host the 2018 Memorial Cup.
That long-awaited announcement was made Saturday afternoon.
The 100th Memorial Cup joins several other sporting events coming to Regina in 2018, including: the Tim Hortons Brier, Skate Canada and the Canadian University Women's Basketball Championship.
All occasions will need volunteers to help it succeed, but Mayor Michael Fougere is confident Regina will avoid the burnout factor and do what it always does — put on a first class event, which leaves people talking.
"We've had lots of events in the same year," explained Fougere. "We always do so very, very well — from the Junos to the Grey Cup, now to this — I don't think we'll have any issues getting volunteers."
Fougere says it shows a lot about the city and the venues it has when so many different events can come to Regina.
The 100th Memorial Cup will go May 17-27, 2018.