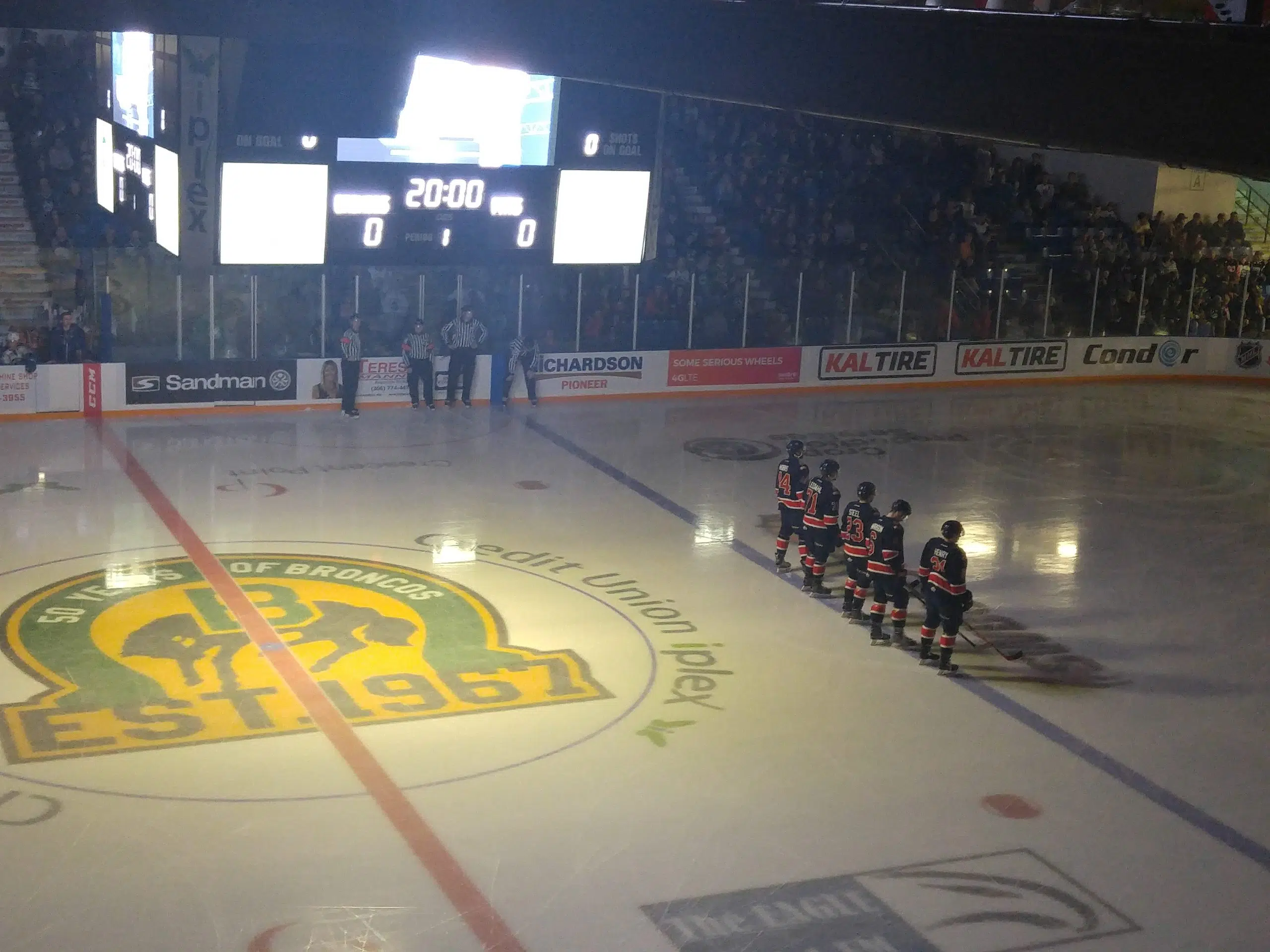 The Regina Pats and Swift Current Broncos are going to go the full seven games to determine who moves on in the WHL playoffs.
The Pats went into Swift Current Saturday night and beat the Broncos 5-3 to force a 7th and deciding game at the Brandt Centre Monday night.
The Pats trailed the game 3-1 late in the 2nd period, but goals by Josh Mahura and Wyatt Sloboshan in the last two minutes of the third quieted a wild Credit Union I-Plex crowd and stole the momentum away from a Swift Current team looking for their second straight upset of the playoffs having knocked out Moose Jaw in Round 1.
The Pats took the momentum from the strong end of the second to take the lead early in the third on a goal by Austin Wagner while adding another from Filip Ahl to take the game and set up Game 7.
Game 7 may not have been in the cards for Regina had it not been for the play of goalie Tyler Brown.  After allowing the 3rd goal of the game early in the 2nd, Brown shut the door making several spectacular saves in the second leading the way to the comeback.
Game time Monday from the Brandt Centre is 7 o'clock with all the action on 620 CKRM.
The winner moves into the WHL Eastern Conference final against either the Lethbridge Hurricanes or Medicine Hat Tigers.  The Hurricanes lead that series 3-2 and can close it out with a win on home ice Sunday.
Scoring Summary
First Period
Regina – Austin Wagner (7) from Filip Ahl and Sergey Zborovskiy – 7:24.
Swift Current – Artyom Minulin (2) from Glenn Gawdin – 11:41.
Second Period
Swift Current – Arthur Miller (1) from Glenn Gawdin – 0:29.
Swift Current – Glenn Gawdin (6) from Tyler Steenbergen and Arthur Miller – 2:27.
Regina – Josh Mahura (2) from Sam Steel and Dawson Leedahl – 18:36.
Regina – Wyatt Sloboshan (2) from Josh Mahura and Filip Ahl – 19:35.
Third Period
Regina – Austin Wagner (8) from Filip Ahl and Wyatt Sloboshan – 1:15.
Regina – Filip Ahl (1) from Austin Wagner and Wyatt Sloboshan – 5:48.
Shots on Goal
Regina 6-16-6-(28) Swift Current 7-14-16-(37)