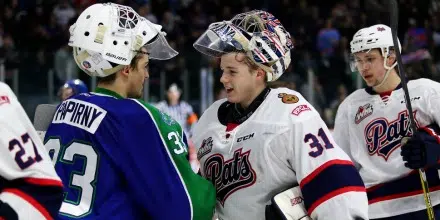 With a sold-out Brandt Centre cheering them on, the Regina Pats defeated the Swift Current Broncos 5-1 to move on in the WHL Playoffs.
Goals by Sam Steel and Filip Ahl in the first five minutes of the game sent Regina on their way as they dominated the first ever Game 7 played at the Brandt Centre since the Pats moved into the building 40 plus years ago.
Regina will now either play the Lethbridge Hurricanes or Medicine Hat Tigers in the Eastern Conference final in a series which will start Friday night at the Brandt Centre with Game 2 going Saturday.
Tickets will go on sale Tuesday starting at noon at the Brandt Centre box office or from the Pats website.  Tickets can also be purchased at all Regina Safeway locations.
Scoring Summary
First Period
Regina – Sam Steel (6) from Nick Henry and Connor Hobbs – 2:19.
Regina – Filip Ahl (2) unassisted – 4:37.
Second Period
Regina – Sam Steel (7) from Connor Hobbs and Dawson Leedahl – 9:19.
Regina – Austin Wagner (9) from Connor Hobbs and Filip Ahl – 15:36.
Third Period
Swift Current – Conner Chaulk (2) from Max Lajoie and Ryley Lindgren – 14:33 PP.
Regina – Austin Wagner (10) from Wyatt Sloboshan – 15:36. EN SH.
Shots on Goal
Regina 12-21-10-(43) Swift Current 10-5-9-(24)