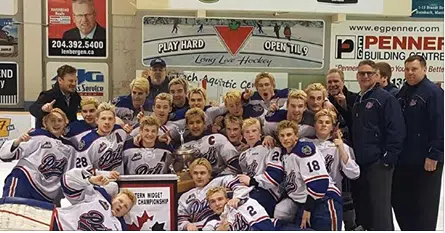 The Regina Pat Canadians are in Prince George, BC for the Telus Cup national midget hockey championship.
The champions of the Saskatchewan Midget Triple A league go into the event riding an 11 game win streak as they won their last seven to clinch the provincial title and then went on to win four straight at the West regional to advance.
The team will open up the tournament against the Central reps from Mississauga, Ontario on Monday afternoon.
It is the 9th time the Pat Canadians have played for the national midget hockey championship, with their last appearance being in 2015 when they picked up bronze.
The Regina Pats have three prospects in the tournament,  Forwards Lukas Sillinger and Eric Houk play for the Pat C's while forward Riley Krane plays for the host Cariboo Cougars.
The final in the six team event goes next Sunday.