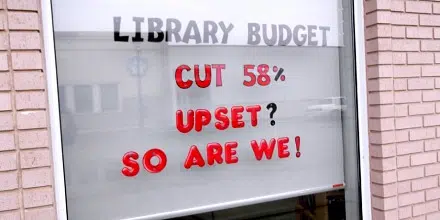 The Sask. Party may want to reference what Saskatchewan thinks about its local libraries.
After the provincial budget was tabled, campaigns and rallies were organized after the province axed the $1.3 million operating grant to the municipal library systems in Regina and Saskatoon.
Education Minister Don Morgan had suggested there might be too many libraries in the province.
However, earlier last week, the provincial government announced it will be restoring funding for Saskatchewan libraries back to the 2016-17 funding levels.
According to Premier Brad Wall, it's to ensure regional and municipal libraries and the interlibrary loan services remain operational.
RELATED:
The announcement will provide $4.8 million in addition to the $3.5 million which was announced on budget day, March 22.
Tom Graham is the president of CUPE Saskatchewan. He calls this announcement a victory — not only for library workers, but for the hundreds of people who made their voices heard over this issue.
Graham said it was a positive move and the right thing to do.
"It was a poorly thought-out plan in our opinion," said Graham. "I believe it was 4.8 million dollars in the big picture. I think it was pretty obvious from the public response it was the wrong thing to do."
Graham said the Saskatchewan government simply misread the population.
"This government is very famous for doing things without listening to people," added Graham. "(The Sask. Party government) shouldn't have been surprised at the reaction. I mean, they can sit around in cabinet offices and make these decisions, when, in fact, they should be talking to people and listening to people."
Graham said there are still questions about what this means for the library workers who already received pink slips. He said some workers have already had their positions restored.
"All our members who have lost their jobs — we'll certainly be trying to get them reinstated, or have the layoff notices withdrawn."