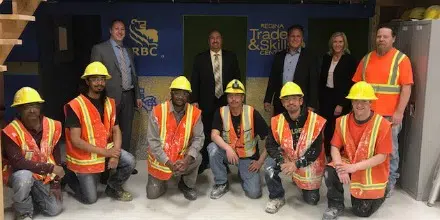 The Regina Trades and Skills Centre is giving its students a chance to make the transition from training to employment as seamless as possible.
For the last couple of weeks, students were out in the community, helping out non-profit organizations, and getting hands-on experience in the workforce.
Brian Shankowsky is the executive director of the Centre. He said giving students this opportunity creates a sense of a job well done.
"These projects, they're going to stay and they're going to be permanent fixtures for these organizations," said Shankowsky. "That just brings up a whole new level of interest in (the students) and a whole level of effort."
In addition to the 'real world' experience students obtain from the job sites, Shankowsky added that the students get a sense of fullfillment working with the non-profit groups.
"We love working with the non-profits because a lot of times they don't have money available to do some of the projects, but they would like work done around their places," he explained. "The extra funding that we have been granted doesn't pay for the project in its entirety, but it does contribute to it."
Shankowsky said the projects are partially funded through the donation received from the RBC Launch Grant.
Groups like the Early Childhood Intervention Program and the Regina Downtown Business Improvement District are just two non-profits which have received help from the Regina Trades and Skills Centre crew.