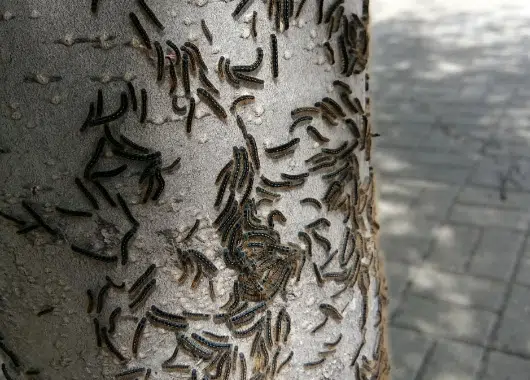 They're back. Tent caterpillars and cankerworms have arrived for yet another year and the city of Regina is taking action.
Russell Eirich is the the city's manager of forestry, pest control and horticulture. He says, since last fall, the city has been intensively monitoring the tent caterpillar and cankerworm populations, and they've noticed the numbers are above average this year.
There is a spray map on the city's website — it's there you'll find what areas the city will be spraying the bugs next.
Eirich assures residents that the spray is not harmful to pets, people or cars — and it's environmentally friendly.
According to Eirich, the east end of the city is being hit worst with tent caterpillars and cankerworms, which is why they're headed to the Greens on Gardiner to begin spraying on Wednesday.
He says weed control is also a priority, but only in certain parts of the city.
"We have had some provincial cut backs, so we have changed our strategy a little bit more this year," said Eirich. "What we're going to focus on this year is our athletic fields, our ball diamonds, our soccer fields and our football pitches that are grass areas."
As far as mosquitoes, the city has been seeing average numbers of them so far — that's thanks to the dry weather.
However, Eirich reminds residents to empty all birdbaths — or any other spots where water could collect — to help the fight against mosquitoes.