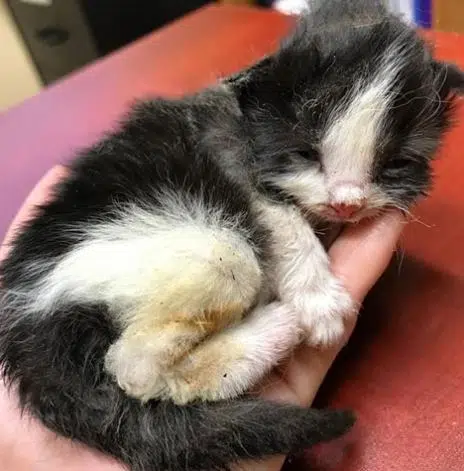 An animal abuse investigation is underway in Prince Albert, Sask. after children were caught mistreating a handful of kittens.
Liana Maloney, manager of operations at the Prince Albert SPCA, said it started last Saturday when the kids were throwing five kittens around in the St. Mary School playground.
Soon after, she said a couple kittens were dropped off at person's front door with burn injuries.
Aside from nursing the kittens back to health, Maloney says the goal right now is to find the kids who did this.
"We need to make (the kids) accountable, or make their parents accountable at least," said Maloney. "We want to make sure that if this is some kind of cycle of abuse that we can at least do something to intervene. They need to understand what happens to animals when you abuse them and what the consequences are, but they also need to understand what they're doing."
Maloney said out of the five kittens, four are in their care — the fifth kitten is at another shelter in the city.
While there have been many offers to adopt the kittens, they won't be ready to go home for another three months. Once they've reached that age and have been spayed or neutered, Maloney said the SPCA will let the public know on their website whether they're up for adoption.