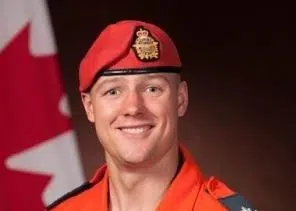 The Air Force Directorate of Flight Safety has released a report on the search and rescue technician killed near Yorkton, Sask.
On March 8th, 31-year-old Master Corporal Alfred Barr was doing a live static line parachute jump over the Yorkton Airport.
As he left the aircraft, his left leg was observed to move upwards and his body rolled slightly to the right, as the static line system began to deploy his chute.
The parachute didn't open normally, and the right side of the canopy was observed to be lower than the left side.
Barr quickly entered into a tight clockwise descending spiral, rapidly descended to the ground, and was killed on impact.
Detailed examination of the parachute didn't reveal any evidence of material failure, and the investigation is focusing on human factors, including training and emergency procedures.
Barr was a member of 435 Transport and Rescue Squadron, based at 17 Wing Winnipeg.
(GX94)