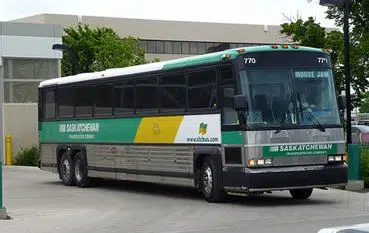 A judge shutdown any hopes the Saskatchewan Transportation Company had of staying in business on Friday.
Justice L.M. Schwann claimed there is no "legal infirmity" with the order to wind down and dissolve the company that was run by the Saskatchewan Government.
In a statement released by province via email, minister responsible Joe Hargrave said, "The government is pleased to receive the court's judgment dismissing the ATU application to suspend the wind up of Saskatchewan Transportation Company."
The statement went on to note how the judgment has "affirmed the legality" of the government's choice to shut down the 70-year-old bus company.
"We are also pleased that the court supported our government's decision to define the word 'privatize' in legislation, noting the omission of any such definition in the original legislation was 'glaring and surprising,'" added Hargrave.
Related:
The Wall government announced the wind down of the bus company in March's provincial budget, as a way to cut costs.
STC had been in operation since 1946.
According to the province, administrative staff will "continue on for an undetermined length of time" post-shutdown to finish up wind up requirements.
May 31 will be the last day for passengers to ride STC.