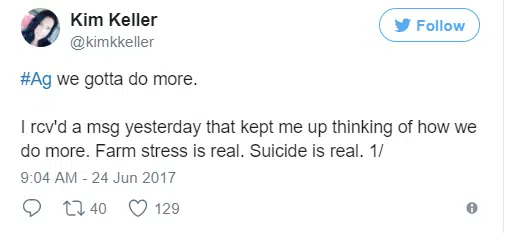 More needs to be done for farmers who may be faced with suicidal thoughts.
That from Kim Keller, who just last week learned about the recent suicide of a farmer and decided it was time to speak up.
She tweeted, "farm stress is real. Suicide is real."
Keller farms near Gronlid and is a co-founder of Women in Ag.
She says she received a call one day from a friend down the road who had heard about a client of his that committed suicide on the farm.
That's what drove her to write the message.
Keller's tweet was shared 37 times, and received over 100 likes within the first day of posting it.
The discussion continued over the next several days.
Premier Brad Wall has invited her to meet with the Department of Agriculture to discuss the issue.Keller says she has lost count of all the messages, texts and phone calls she's received from people sharing their stories and offering to help.
(CJWW)