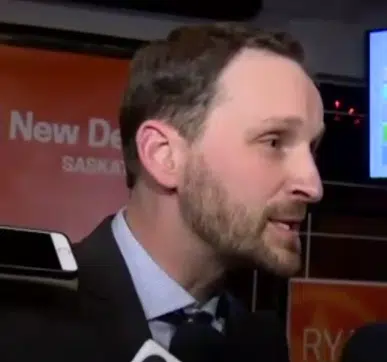 Saskatoon MLA Ryan Meili has made it official.
Speaking in Moose Jaw on Friday, Meili says he is running for the leadership of the Saskatchewan NDP.
Meili's platform contains several items
A healthy economy – Decrease poverty by 50 per cent,  increase minimum wage to $15 an hour, review Saskatchewan's resource revenue and corporate tax structures with the aim of establishing a Sovereign Wealth Fund
Investing upstream – Establish a Ministry of Children to improve early education, implement a nutritious lunch program, restore funding in education and expand on community school model
Real reconciliation – Culturally appropriate education and employment training,  re-establish Ministry of First Nations and Metis Relations
Complete care – Introduce Pharmacare which would provide universal coverage for essential medications, expand access to counselling services and emergency mental health care
Rural reconnection – Repeal Bill 63 to give rural school boards autonomy, create a provincial transportation system, improve high-speed internet and cellular service across the province
Energy leadership –  Establish a separate body from SaskPower that would be charged with energy efficiency, craft incentives for reducing carbon emissions, create a made-in-Saskatchewan approach to carbon pricing that brings in new jobs, benefits rural and northern communities, and effectively incentivizes reductions in carbon emissions.
Deeper democracy – Ending the practice of corporate and union donations to political parties, implement candidate rules that encourage diverse representation.
In a statement. Meili says "With the right combination of smart ideas and strong values, we can win government and make a real difference in people's lives."
This will be the 3rd time Meili has sought the leadership of the Saskatchewan NDP.
A leadership convention will be held in March 2018.