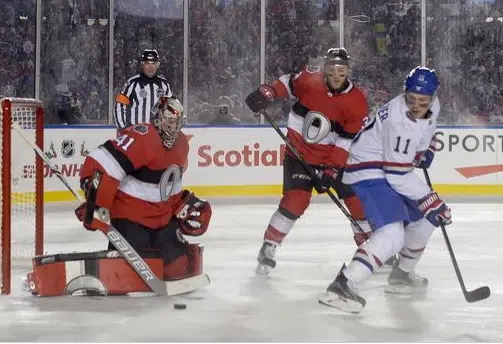 On a night where the temperature hit minus 13, hockey fans bundled up and stayed warm as the Ottawa Senators beat the Montreal Canadiens 3-0 in the NHL 100 Classic played outdoors at Lansdowne Park (TD Place), the home of the Ottawa REDBLACKS Canadian Football League team.
Craig Anderson recorded his 4oth career shutout in stopping 28 shots as the Senators improved their record to 11-13-7.
Despite the frigid temperatures 33,959 fans filled the stands for the first outdoor game for the current Ottawa franchise. The game was part of the NHL's 100th anniversary celebration and featured the two cities that played in the original NHL game back in 1917.
Bobby Ryan gave the Senators control late in the 3rd when he stripped the puck from Jonathan Drouin and beat Carey Price to make it 2-0.
"It was cold," Ryan said. "It was cold. It was cold. Yeah, every period, it got colder. But it was worth every second. Coldest I've ever been. Not even close."
Ryan paid tribute to the crowd.
"The fans came out and made it a heck of a night by being loud and engaged. And when the home team gets two points and the city can rally around a great event, makes it all the better. It was well done by the NHL and the city and something I will look back on, absolutely."