We are just over one month from the Regina Pats 100th Anniversary Homecoming Weekend.
Part of that weekend is an alumni game featuring many former Pats and NHL'ers.
On Tuesday, the team announced what players will be taking part in that game.
Several former Pats like Clark Gillies, Dale Derkatch, Barret Jackman, Mike Sillinger and Stu Grimson will play in the game.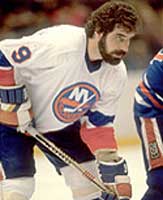 Clark Gillies
Others like former Saskatoon Blades Brian Skrudland and Wendel Clark will be in attendance as will former Brandon Wheat King Brian Propp and Prince Albert Raider Pat Elynuik.
Also taking part will be the son of the legendary Gordie Howe, Mark Howe, as well as Darcy Tucker, Bryan Trottier, Jarrett Stoll and Scott Niedermayer.
Darcy Tucker
The Pats are also auctioning off a chance to step on the ice with the all-stars. Two lucky individuals will get a chance to experience everything the NHL alumni players do on that weekend as there are two player and two coaching positions up for grabs.  The bidding closes January 31st.
All proceeds from that auction go towards the Regina Pats Community Foundation which supports the WHL Scholarship Program as well as youth initiatives focussed on health, wellness and education.