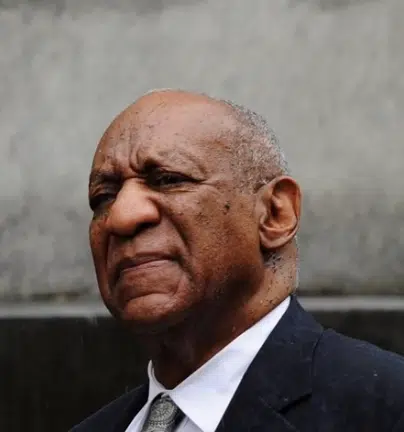 NORRISTOWN, Pa. (Reuters) – Comedian Bill Cosby was convicted on Thursday of drugging and sexually assaulting a onetime friend in 2004, marking the first such conviction of a celebrity since the #MeToo movement that has brought down rich and powerful men for their treatment of women.
Cosby, 80, best known as the lovable father from the 1980s TV hit "The Cosby Show," faces up to 10 years in prison for each of three counts of aggravated indecent assault against Andrea Constand, 45, following a three-week trial at the Montgomery County courthouse in Norristown, Pennsylvania.
After weeks of maintaining decorum during the trial, Cosby exploded following the verdict when prosecutors asked the judge to take him into custody, saying he was a flight risk in part because he owned a plane.
Moments earlier, as the verdict was read, Cosby looked down with a sad expression. Lili Bernard, one of his many accusers, began sobbing. Constand sat stone-faced.
Judge Steven O'Neill ruled that Cosby could remain out of jail on $1 million bail pending sentencing at a later date, as long as he surrendered his passport and remained at home.
Cosby then left the courthouse with his lawyers and publicist.
"The fight will go on," defense lawyer Thomas Mesereau told reporters, insisting on Cosby's innocence.
The conviction marks the downfall of a man once celebrated as "America's Dad" but whose reputation was ruined after some 50 women accused him of similar offenses going back decades.