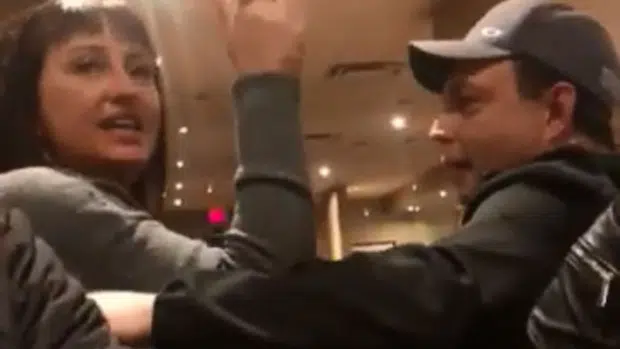 The woman who was caught on video shouting racist comments at a Denny's restaurant in Lethbridge, Alberta was fired from her job after the video went viral on social media Wednesday.
Dave Girling, owner of Cranbrook Dodge, an auto dealership in Cranbrook, B.C., identified the woman in the video as former employee Kelly Pocha.
A statement posted to the Cranbrook Dodge Facebook page said the dealership is an inclusive company that has no room for hate or intolerance.
"We have recently become aware of a disturbing video that involves one of our employees," the statement read. "We are deeply concerned about the content of this video and want all of our friends, families, colleagues and customers to know that this behaviour does not reflect the values of Cranbrook Dodge in any way.
"The employee in question has been terminated and we deeply apologize for her actions."
The video, posted to Facebook on Tuesday night, appears to show Pocha repeatedly telling a group of men they are "not Canadian."
A Facebook user named Monir Omerzai posted the video, which is just over five minutes long, to Facebook. As of Wednesday afternoon, the video had 370,000 views and was shared about 7,600 times.
The video shows Pocha, who was seated in an adjacent booth, turning around to shout at a group of at least three men, one of whom was recording the incident.
Lethbridge police say they are looking into the verbal dispute.
The video made waves at the Alberta legislature after Stephanie McLean, the minister for the Status of Women, offered a qualified defence of the woman on social media.
"She was definitely not right and was saying horrible bigoted things. That being said — (am) I hearing right? At the beginning of the video does the man on the left say to her 'you ask to speak.' Then says something about her mother?" McLean tweeted.
McLean later deleted the post and apologized.
"My tweet shouldn't have implied there could be an excuse for the behaviour in that video," she wrote. "There is no excuse!"
Alberta Premier Rachel Notley denounced the "racist, bigoted comments" on Twitter.
Mayor Chris Spearman also condemned the racist rant and said Lethbridge has gone out of its way to welcome newcomers from all over the world.
"They're part of who we are. We are a growing, progressive, modern city and I'm disappointed to see an incident like that occur," he said.
(CP)