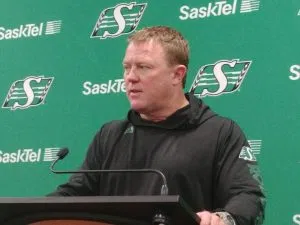 A jovial Chris Jones finally let the cat out of the bag when speaking with reporters on Friday morning.
"Zack will start for us……on the defensive line." Jones said with a smile on his face as he was referring to Regina product Zack Evans.
While Jones still isn't tipping his hat as to who his quarterback will be against the Toronto Argonauts ( 7 PM 620 CKRM, TSN, ESPN2),  he is confident of both being able to do the job.
"You've got two good guys who have played a lot of football and they've won a lot of football games," Jones said. "They both bring different aspects to the game.
As Rider fans know, the Argos put an end to the 2017 Rider season with a late touchdown in the Eastern final to win 25-21 and advance to the Grey Cup which they won beating Calgary.
Long-time Rider Brendan Labatte says the fact the season is starting against the team that won it all and ended their season is a perfect way to start 2018.
"We definitely have a taste in our mouth as to how things ended last year and obviously when you come in as the champion you have a target on your back." Labatte said. "I don't think there is any better opponent for us to start the year so we can see where we are at."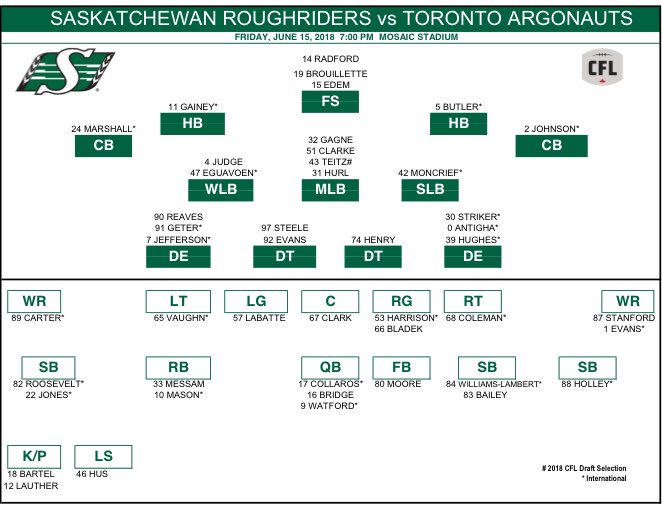 Not only will the green-and-white be looking to exact a small measure of revenge on the Argos for what happened last year, they will also be looking to reverse a trend that has seen them lose their last three season openers.
620 CKRM will have it all for you starting with Rider Nation pre-game at 4 PM with Michael Ball live from the Harvard 620 lounger at Mosaic Stadium followed by the play-by-play with Rod Pedersen and Luc Mullinder at 7.