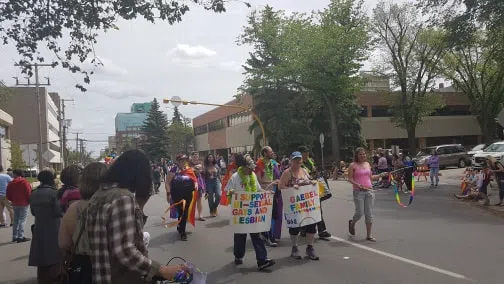 Loud music, vibrant colours and thousands of people lined the streets of Regina's downtown thoroughfares, celebrating inclusion, diversity and equality as the Pride Parade made it's way through the heart of the city.
Happy Pride/Bonne Fierté, Regina!@QueenCityPride #Pride2018 #pride #LGBTQ #YQR #Sask #Canada #loveislove pic.twitter.com/8Jw5paiEFK

— David Boles (@DavidJBoles) June 16, 2018
People from all organizations and affiliations came together to march, including those from the municipal, provincial and federal governments.
Mayor Michael Fougere, along with many city councillors, were marching in the parade.
RELATED
"It's show of support, not just from council, but from the entire community," said the Mayor. "This is just a wonderful example of inclusion. Look around here, this is a huge parade! Lots of colour, dance, music, people happy. This is all about demonstrating inclusion, tolerance and understanding in our community."
That was a sentiment echoed by many of the other marchers and participants, including Regina-Wascana MP Ralph Goodale.
What a wonderful, diverse, inclusive, respectful Pride Parade 2018 in Regina! #pridemonth pic.twitter.com/rU1IXsAWjh

— Ralph Goodale (@RalphGoodale) June 16, 2018
"I've been marching in the Regina Pride Parade now for, I can't remember for how many years, it's been a long time," he said. "What's interesting is every year, it gets bigger, stronger and more inclusive."
For other members of government, like Saskatchewan Party MLA and Minister of Advanced Education Tina Beaudry-Mellor, who's attended many pride parades, it's important to support those in the LGBTQ community and to show young people acceptance is welcomed and seen.
RELATED
"It's very important that young people see adults, especially adults in leadership and public leadership roles, being involved, coming out and saying it's ok to be here."