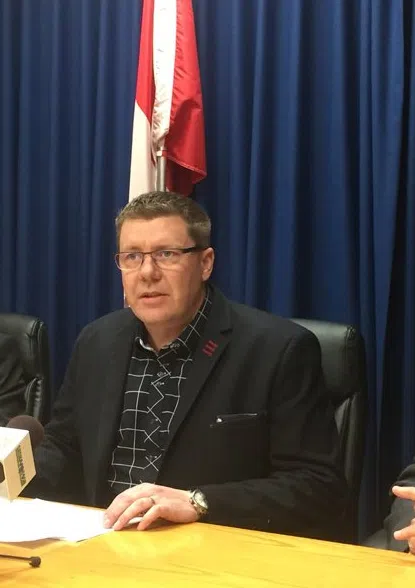 Scott Moe is still not a fan of the current equalization system.
The Premier of Saskatchewan has been consistently vocal about his opposition to the matter on Twitter.
This conversation around Equalization isn't over. Saskatchewan will continue to press for needed changes.

The program is not equitable or fair to all provinces in Canada.

We need to #FixEqualization. pic.twitter.com/rBuJsewwO1

— Scott Moe (@PremierScottMoe) June 22, 2018
We've been working very hard in SK to balance our budget, after a $1.3B drop in resource $

Did you know, via Equalization, taxpayers are also balancing Quebec's budget? Eq was 10% of QC revenue last yr – $11+ BILLION

That's why we will push to #FixEqualization for SK & Canada pic.twitter.com/DepLYgdzVI

— Scott Moe (@PremierScottMoe) June 23, 2018
Last week, the Premier brought the talk from online into the halls of the Saskatchewan Legislature.
Moe said the current formula is flawed, which is exactly why robust discussion with other provincial leaders about a more equitable formula is so vital.
RELATED
"It is fair for all Canadians, in particular for provincial and territorial leaders, to always have a discussion on how we can improve formulas that we currently have."
Recently, Justin Trudeau's Liberal government moved to extend the current system, a move Moe made clear he wasn't a fan of.
"April 2019 is when this program will ultimately take effect for the next five years," he said. "The federal government has indicated they had put in the status quo formula into the omnibus budget that was introduced this past spring without notifying the province of Saskatchewan nor the Finance Minister in the Province of Saskatchewan, I might add."
Equalization was brought up at the recently held Finance Ministers meeting by Donna Harpauer. But despite it being a topic of discussion supported by other provinces, Finance Minister Harpauer said it was rebuffed.