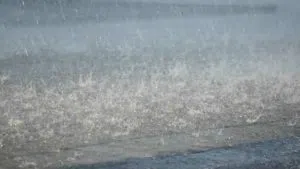 Northern communities are receiving large amounts of rain this weekend.
Since Saturday,  Collins Bay has received more than 100 mm of rain with Environment Canada reporting a total of 115 mm as of early Sunday afternoon.
Heather Pimiskern, a meteorologist with Environment Canada says other communities surrounding Collins Bay such as Southend and Stoney Rapids have both received approximately 50mm of rain over the last day and a half.
Pimiskern says they haven't received any reports of flooding in the area.
She adds the low that brought the rain will move out today although another system is expected to move in by Monday afternoon.
As of 10:25 Sunday morning. Environment Canada issued a rainfall warning for northern Saskatchewan which includes Key Lake, Cree Lake, Southend, Wollaston Lake and Collins Bay with another 5 to 10mm expected this afternoon.
(CJWW)