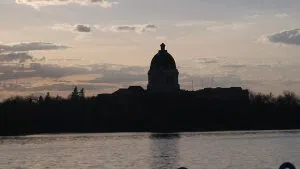 The government's plan to return the province to a balanced budget by 2019-20 remains on track.
That from Finance Minister Donna Harpauer on Thursday as she announced the government ended up with a deficit of $303 million in the last fiscal year which is better than the projected figure of $365 million.
Harpauer credits  a stronger performance in the oil and potash sectors for the improved performance, and adds other factors include the increase in the provincial sales tax to six percent from five as well as lower crop insurance claims.
Harpauer said that while the plan to return to an annual balance is on course, there is more work to do.
"Each fiscal year is unique and while we are on the right path, unanticipated challenges or at times good fortune—like the better-than-anticipated crop year—can occur," Harpauer said. "To ensure we remain on track, our government will continue to manage spending carefully, invest in priorities for Saskatchewan people, shift from our reliance on volatile resource revenue and help to keep our economy strong."
Meanwhile, Opposition Critic Trent Wotherspoon said the government is playing with the numbers.
"Really what you see is a lot of smoke and mirrors from this government. A government that couldn't manage itself during the good times, couldn't balance the books. They're adding over one billion dollars this year alone and of course have tripled the net debt within our province."
Harpauer said the province will be not be adjusting their numbers from the March budget, but will reevaluate in August.