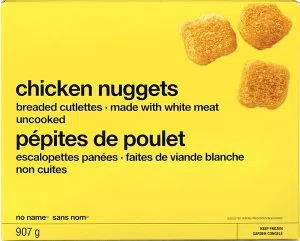 You are being advised by the Canadian Food Inspection Agency to check your freezer and cupboard for two items that have been recalled by the Canadian Food Inspection Agency–both because of possible salmonella contamination.
The first is certain boxes of Loblaw's no-name brand chicken nuggets.
The nuggets were sold in 907 gram packages (UPC code 0 60383 89685 0) and should be thrown out or returned to the store where they were purchased.
The Canadian Food Inspection Agency says there has been at least one reported illness associated with the product.
Symptoms of salmonella poisoning often include fever, headache, vomiting, nausea, abdominal cramps and diarrhea.
Long-term complications can also include severe arthritis.
The second item is Christie brand Ritz Bits Sandwiches in the Cheese and Pizza flavours.
Mondelēz Canada is recalling crackers sold in 180-gram packages, as well as in cases of smaller Snak Paks of 42 grams. The full list of recalled lots is on the Canadian Food Inspection Agency website.
There have been no reported illnesses associated with the consumption of the crackers, but consumers are advised by the agency not to consume any of the product and take it back to the store where purchased or simply throw them away.