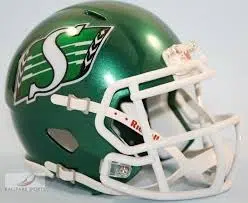 At the six-game mark of the 2017 CFL season, the Riders were 2-4.  One year later, the team is 3-3.   Depending on what side you are on, the glass is either half empty or full when it comes to the performance of the football team at the one-third mark of the season.
Many feel the glass is half empty after a disappointing night on offence in a 34-22 loss to Calgary on a night where they held Bo Levi Mitchell and the Calgary offence to less than 250 total yards yet lost by 12 points to a Stampeders team that is now 6-0.
Head Coach and General Manger Chris Jones is certainly not happy with the fact his team has split its first six games, but he says his team is one that all eight teams in the league recognize as a stiff challenge.
"We've got a good football team; I don't think there's any doubt about it," Jones said following Saturday's defeat. "If you polled most of the teams in the league, they know they've got to strap it up when they play us. Nobody's going to be looking past us, I can assure you of that.
Jones also hinted after Saturday's game that Zach Collaros will be ready to once again see action after the Edmonton game as the team will embark on its second bye of the season after that and will not play again until August 19.  Collaros has been out since suffering a concussion in the first half of a Week 2 loss to Ottawa.
The Riders are back on Mosaic Stadium turf Monday as they start getting ready for their next game which is Thursday in Edmonton. 620 CKRM has the contest starting for you at 8 with the pre-game show starting at 5.