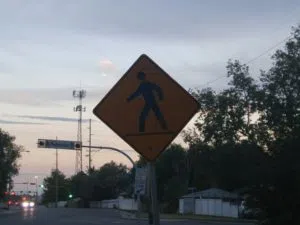 The city of Regina is looking at reducing the speed limit from 40 km/h to 30/hm/h in school zones.
Executive committee is looking at a number of recommendations on the issue.  If the limit was reduced to 30, the hours would change from the current ones of 8 AM-10 PM with the slower speed only in effect from 7 AM – 7 PM.
The reduction is supported by the Vice Chair of the Regina Public School Board, Adam Hicks.
"I went through my child's school zone," he said. "I drove through that school zone at 40 km/h pace and 30 km/h pace. And the difference was seconds."
Hicks said this is a matter of potentially saving lives.
"Every kilometre that you drop the speed limit has a substantial increase in the survival rate of somebody being hit."
The idea comes after a Traffic Safety Committee looked at a variety of school zone safety options.  Other recommendations made by the committee, which included representatives from the Regina police, SGI  and both the public and separate school boards call for no U-turns to be done in school zones, pedestrian crosswalks in school zones should  follow national standards and be upgraded to the higher visibility pavement markings of the 'zebra crossing'.
Should Regina City Council approve the recommendations, they would take effect for the 2019-2020 school year.