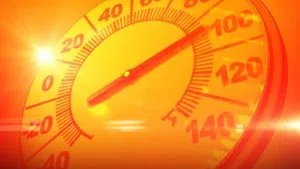 As Saskatchewan bakes under the heatwave that has seen temperatures get close to or above 40 degrees Celsius,  Environment Canada is telling us several places have broken the record for the hottest August 10.
Regina was one of more than a dozen communities that broke the daily high as the temperature got to 36.4 degrees beating the old record set in 1979 which was 35.4
In Swift Current, the mercury got to 40 degrees.  Other places breaking records include Saskatoon, Moose Jaw, Indian Head and Weyburn.
With the heat not going away, several places are expected to break the record for the hottest August 11.   In Regina, the hottest August 11 was in 2003 when it hit 35.4 degrees.  That record has been smashed as the mercury is inching to the 40 degree mark on Saturday afternoon.
As of 3 o'clock Saturday afternoon,  CFB Moose Jaw was the hottest spot in Canada at 41.3 degrees Celsius.
There is some good news.  Cooler weather is on the way with a high on Sunday of 32 and then 23 on Monday.