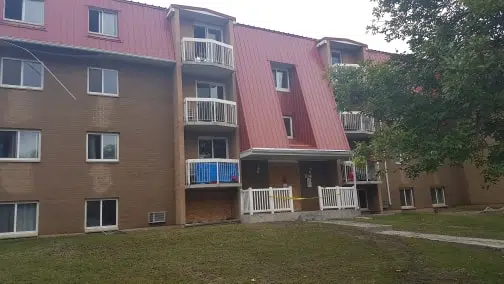 Regina fire crews were called to the city's northwest for an apartment fire just before midnight on Saturday,
Firefighters battled for several hours into Sunday morning on 104 Hanbridge Crescent, leaving many without homes for the next few days.
Regina Fire Marshal Randy Ryba said so far there's noticeable damage to the roof and three of the 32 suites.
"The suites on the east side of the building have water damage, a little smoke damage. The building itself isn't habitable at this time though. The power has been disconnected."
Ryba said the flames were quite large for crews to deal with.
"A typical response to a structure fire would be five units. We called in two extra trucks. A number of variable platforms and such to get to high points on the roof. It was certainly stressing."
Ryba said it will probably take at least two days to investigate the fire.
No damage estimate or cause will be given at this time.
Meanwhile, the Canadian Red Cross is stepping in to help the 39 people displaced due to this fire.
Those who are still misplaced from the fire are to contact the Regina branch directly.