One of life's joys is hopping in a vehicle and going for a Sunday drive just to see new scenery, new things, and new people. It allows a person to act as a tourist for a day in their own home province. I took a drive yesterday to places I have never been to, or at least, haven't been to in a very long time!
The first leg of the trip to the Sukanen Ship Pioneer Village and Museum south of Moose Jaw. For anybody who's into history, especially agriculture history, they'll will appreciate the vintage cars, trucks, tractors, and huge collections of historical buildings from the Moose Jaw region. The major attraction is the Sukanen Ship built by a pioneer who desperately wanted to get back to his home country of Finland from Saskatchewan. You can read his story and see his grave at this very unique looking ship on the grounds.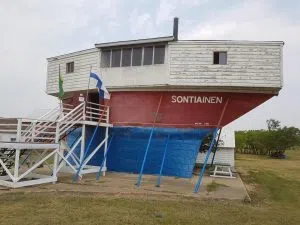 After the museum I steered the truck towards Old Wives Lake. En route to this major migrating bird sanctuary, I noticed several old, abandoned farm houses and farm yards. I think it's easy when you're traveling to dismiss those old places as just junk or just a place that should be bulldozed, but as I was cruising along highway 336 I started to rethink my position on those old abandoned country homes. Every one of those abandoned buildings we see along a road have a story. Somebody obviously moved to that spot from who knows where to start a farm to better themselves and their family. Who moved there? did they have kids? Who are the kids and what do they do now? In our busy lives we tend to forget those pioneers who helped shape Saskatchewan and how brave they were to pack up and leave their home to move to a place where the unexpected is guaranteed. How does a person really prepare for something like that especially in the early 1900's. Where do you go for supplies? How cold do the winters get? All these questions, yet the majority of the pioneers persevered in almost impossible situations. Yes, those old decrepit houses tell a big story.
I eventually reached Old Wives Lake, which was hauntingly beautiful especially when you know the Cree legend surrounding the lake. Further on from the lake is the former pioneering and now ghost town of Courval, population of five! The first thing you see is the remnants of the old church where, I'm sure, several pioneers worshiped and where they met their neighbours once a week. There is a fantastic cairn located in front of the church honouring the early families of the community and its district. Aside from missing paint and a few broken windows, the church structure still seems somewhat intact from my vantage point on the road.. To you and I it looks a little rough, but transport yourself back to when it was first built and how grand it must have looked on the desolate, open prairie.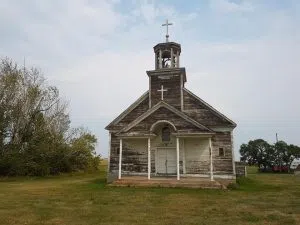 All in all it was a fun Sunday of exploration and learning. I hope you take a little time on a weekend sometime to take a "Sunday drive", clear your mind, and check out what we have right in our own backyard. It may surprise you!